BFFS would not be here today without the generosity of individuals who continually help us improve the services that we offer.
BFFS is lucky to have a dedicated team of volunteers who give of their time and experience to assist us in delivering our services.
If you are interested in volunteering we would love to hear from you.
The volunteer positions we have are:
Emergency Relief Volunteer – Help our community service workers pack and prepare the food and material aid parcels for our clients.
NILs interviewer – Helps our team interview clients to ascertain whether they are eligible for a no-interest, no-fee loan. Good computer and verbal communication skills are preferred for this role. Some financial experience is also desirable. 
Please fill in our Volunteer Expression of Interest form and email it through to either our Bendigo or Shepparton offices. This form can be completed online or printed out.
If you are unable to print out the form, please give us a call on 03 5441 5277 (Bendigo) or 03 5831 7755 (Shepparton) and we will post a copy out to you.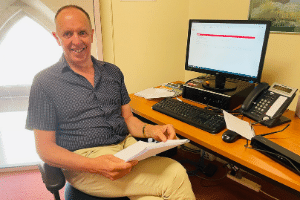 "As a retiree I find it really fulfilling to be part of a community organisation that allows me to support those who often, through no fault of their own, find themselves dependent on benefits. The world has not been kind to many of the people I speak to, whether it be mental health, disability or other disadvantage. NILs loans create an opportunity for them to take back some control over their finances and feel a sense of self-sufficiency."
– Les Evans, Volunteer NILs Interviewer